Christmas can be difficult if you're trying to be greener. While we wine and dine our way, there is no denying that behind every fairy light and plastic bauble the environmental cost is not so magical. The festive season doesn't have to be as wasteful - with a few minor changes, we can make a big difference!
Below are some tips for having a more sustainable Christmas:
Shop sustainable gifts
Each year, £42 million worth of unwanted presents end up in landfills. With the Treeapp Marketplace, you don't have to look hard to find eco-gifts that they will love. Ranging from products such as reusable water bottles, vegan cosmetics, bamboo socks to sustainable jewellery, you are certain to find the right gift for everyone on your list. Shop sustainably this year, with Treeapp.
Create your own Christmas crackers
On top of the cardboard used in Christmas crackers – they are often stuffed with more waste in the form of cracker jokes, crown hats, and disposable plastic toys. Nip this problem in the bud by making your own with items you want to win. For example, you can add items ranging from chocolate coins to a packet of seeds to grow in the winter - sustainable Christmas crackers but personalised!
Think about material
In Britain, it is estimated that we throw away enough wrapping paper annually to circle the globe 9 times. When looking for wrapping, ensure the paper is made from recycled or Forest Stewardship Council (FSC) certified materials. As tape is not recyclable, opt for eco-friendly paper tape - or make do with ribbon.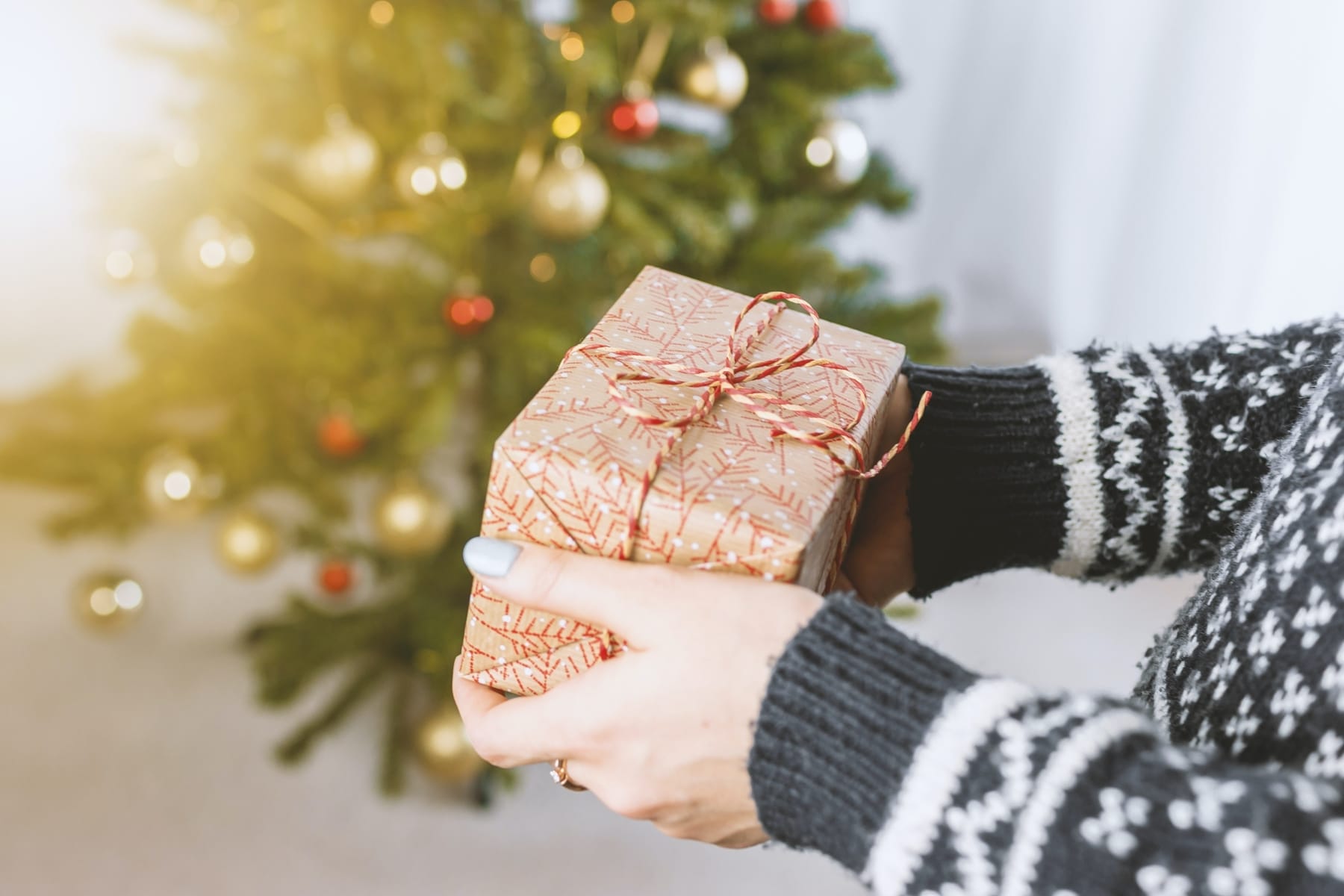 Photo: Christmas Present (Source: Unsplash)
Cut your food waste
Research has shown that the nation's combined Christmas dinners produce the same carbon footprint as a single car travelling 6,000 times around the world. So as you're writing your Christmas food shopping list, be realistic about how much food you need. Use WRAP's food portion calculator to help you figure out the right quantities of different ingredients for the meals you'll be serving, based on the number of people you're feeding. Although leftover food may be unavoidable, you can save and enjoy them the next day by covering them with cling film alternatives such as containers and wax wraps. These can be washed and reused, making them better than aluminium foil or cling film!
And if you're struggling with a gift idea, why not give a TREE?
The holidays are about sharing, caring, and spreading joy. With Treeapp, you can make a global impact in just a few taps! You can gift trees to your friends - simply tap on "Plant/gift trees." You can even schedule for this to be sent on Christmas day and send a customized message! If your friend isn't a Treeapp user, that's no problem! They will receive a personalised certificate directly to their inbox. With every tree planted, you are a step ahead in making this world a better place.